% Gear
This page will explain what % gear is what you can use it for.
What is % Gear?
% Gear is used to upgrade the damage you do with your weapon. Not all weapons work with % gear so you will need the correct weapon to use it with. (Listed below)
There a few items that give % damage themself but most of the times you will need to find items with certain prefix or suffix:
Prefix:
Dragon's (20% Fire Damage)
Daemonic (15% Fire Damage)
Silver (60% Holy Water Damage)
Suffix:
Electricity (15% Lightning Damage)
Sun (75% Holy Water Damage)
Fire and Lightning damage is commonly used for Dragons/Dire Wolfs/Tigers/Bengal Tigers/Orc war bosses.
Holy Water Damage is used for Undead monsters like Undead Guard, Lost Spirit, Vampire, Touched One.
Damage ratio for % gear:
You can see that my damage here is 32-624. (Sorry for shitty quality)
The damage I have done on the Dire Wolf is 912.
I could have done a total of 1342 damage on this dire wolf because the character had a boost of 115% total.
624*1.00=624          (0%)
624*1.5=936            (50%)
624*2=1248             (100%)
624*2.15=1341.6     (115%)  
Example % Gear:
Most common gear used are the Dragon/Electric gear from Bill The Scriber. He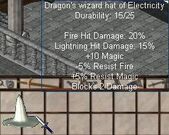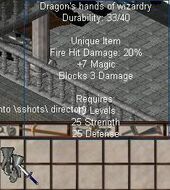 sells Dragon/Electric Mage Robes and Wizard Hats and Dragon Hands of Wizardry. He does not sell them all the time and it might take a lot of patience to wait on these items. (Bill the Scriber refreshes his inventory every Faldon day)
These items add up to 90% Extra Damage alone.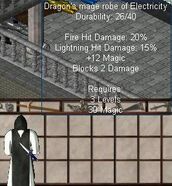 There are also a lot of Dragon/Daemonic/Electricity/Sun/Silver rings around in game and they should not cost you more than 30k each.
Confirmed weapons that work with % Gear:
Skull Blade
Arctic Blade
Mourningstar (Has 3% Lightning Damage)
Divine Sword(Has Silver passive +60% Holy Damage)
Master Sword(Has Silver Passive +60% Holy Damage)
Sword of Kings
Zeus Fury (Has 15% Lighting Damage)
Assassin's Blade
Hammer of Justice
Axe Of Burning
Mithril Axe
Lightning Mace
Shocking Sword
Serpent's Fang
Windblade
Soul Blade
Thor's Hammer
Psi Blade
Let me know if there are more!
Community content is available under
CC-BY-SA
unless otherwise noted.